So, the Hyundai is paid off next month, 3 years since I smashed up the Puma, scary how time flies. Anyway I thought I'd do a review of it. Here it is in Skye.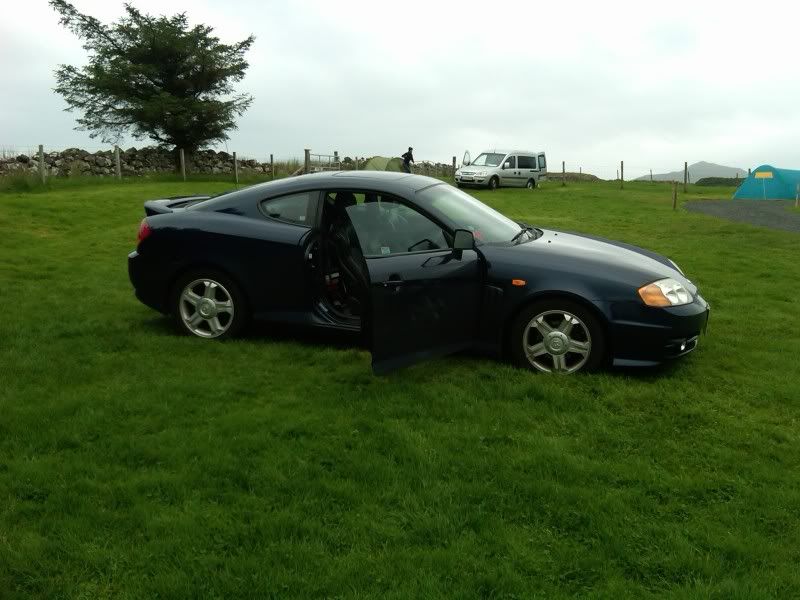 So I bought it from Mk4 Slowride sight unseen. Which was risky but given I didnt have the time or means to go trekking around dealers it seemed like a good idea as if it was a dud it wouldn't look good for him on here
It cost about £5k iirc which wasnt bad for a 2.0 with 50k miles on it and a 6 month warranty. Plus being a Hyundai it should be reliable right?
Relability
By and large it has been, touch wood, it's now got 78k miles on it and the paint came up really nicely the other day with a bit of a wash and wax, it looks shit when its dirty but the paints actually a really nice purpley blue in the sun and looks a lot more expensive than it is when given a good polish. Aside from the plastic filler cap, the paints all peeled off it around the outside and its kind of white now which seems to be a trait on most of the coupes I've seen. Plus the passenger side door rubber started poking out, need to get that rehooked but it looks in good nick for its age really.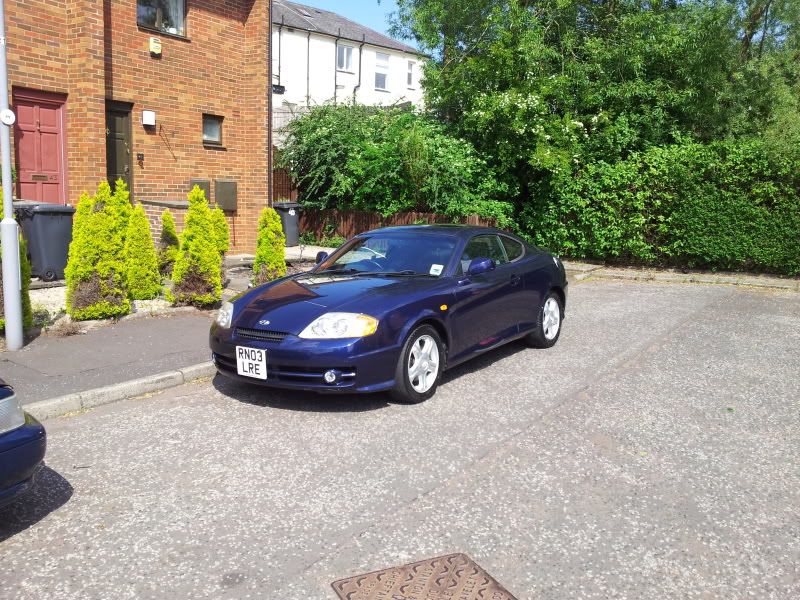 There was a recall to check rust on the front suspension arms which I still ahvent got around to having done yet, I'll get it done at the next MOT next month. If they find nothing they clean it and waxoil it, if its corroded I get a replacement from suspension arm assembly. Which is pretty good going considering it's a ten year old car on its 4th or 5th owner.
The engine warning light came on about 6 months ago which was dealt with by unplugging the battery and resetting the ECU and it went away and hasnt come back on again. Again apparently a regular occurence.
Not long after getting it the left indicator would occasionally stick on, a quick cancel and flick the other way would get shot of it. Then one day it didnt reset, it stayed on, bugger I thought. I got it home and had a look, it wasnt flashing, it was just stuck on glowing yellow so I switched the ignition off thinking that might cure it. Nope. I had to locate the fuse and pull it out, putting it back in didnt fix it either, it still glowed away. After asking here and on PH I ended up phoning Hyundai who diagnosed it as a common fault requiring a new Body control module, the electronic board that runs everything. £500 for the board plus £250 to fit it and reprogram the keys etc. Shitting hell, £750!
Thankfully a google turned up a DIY fix, so I figured I might as well give it a bash. It suggested that the fault wasnt the whole board, it was infact a single relay unit that had subsequently been replaced with a newer version on later models. I got the new relay from the states for £3.60. Then came the hard part. The control module was removed which involved taking a large chunk of the dash board apart and unplugging a load of stuff. The BCU was never intended to be a serviceable part so opening it up was difficult and getting the actual circuit board out without snapping it was hard too.
By this point I was cacking myself as if this didnt work the chances were I wouldnt be able to drive the car to a dealer at all and was due to be taking the ex an a trip the next day. I located the offending relay and cracked out the soldering iron and vacuum solder pump and set about de-soldering it. What a cnut that was, being machine solder it was rock solid and after getting 5 of the 6 pins free I had to admit defeat after 4 hours and took it to a local auto spark to get the last oin free with his mega soldering iron and got him to put the new one in place nice and neatly which cost me £20. I put the board back in, shitting myself that it wouldnt work. rewired the everything, clipped the battery back on, bolted it back in place and turned the key and prayed. Vroom! It worked and has done ever since. Total cost £23.60 instead of £750.
Now, which wire goes where again?
Fuses all had to be removed too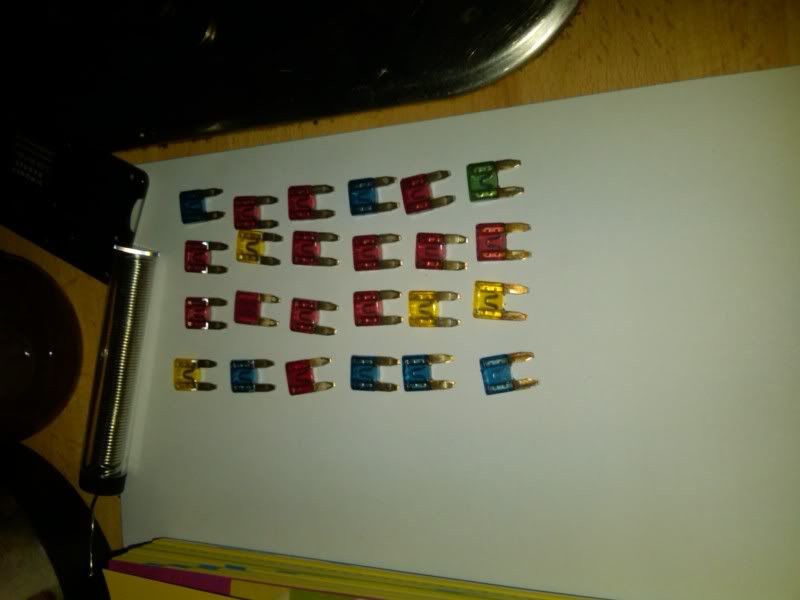 The handbrake failed twice, the car has 2 cables for the handbrake and they both snapped so they needed replaced at £40 each, ouch. Fitting was another £40 so £120 to get the handbrake sorted for last years MOT, I spent 3 months just leaving it in gear.
Ive replace both main beam lights myself which was relatively easy but required the battery to be removed on the nearside which was a bit of a pain in the hoop as its clamped at the base and needed a socket extension to reach, which I didnt own. I do now.
The battery died not long after getting it, that crazy cold snap back then did it in totally, plus, my not shutting the boot fully one evening and leaving the boot light shining all night didnt help matters. I got a new one with a lifetime warranty for £50 from partco or unipart or whatever they call themselves and fitted it myself. The socket set came in handy again!
For last years MOT I decided to get the shite breaks and pads all replaced, which I got through a friend of a friend for cost at £170 for a £300 set, fitting cost an arm and a leg as the old ones were so welded on they had to smash them off with a hammer. I think it ended up being about £100 I think. So £270.
Vented brakes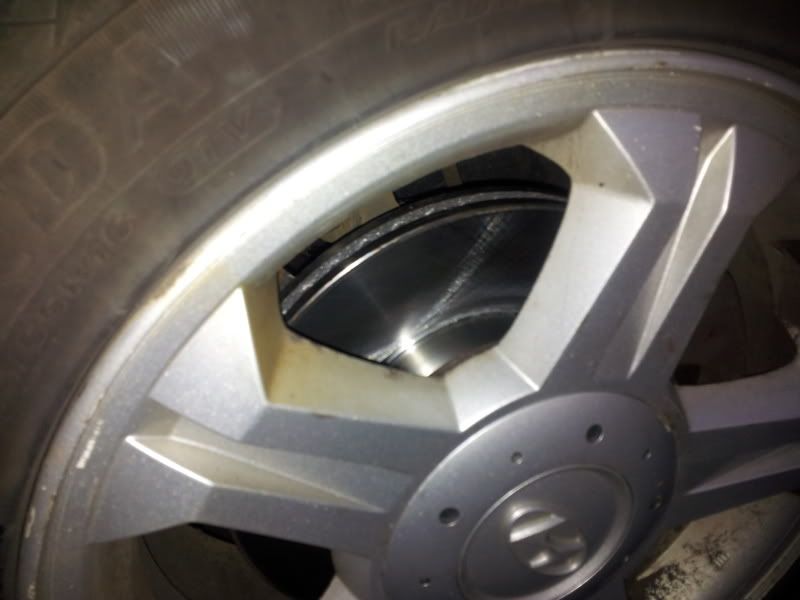 Its had 5 new tyres, 4 due to wearing out, 1 due to hitting a nail at 70mph on the M8 and the damn thing blowing out and shredding the sidewall. Thankfully I didnt die and got it onto the hard shoulder and changed it. What a cnut of a job that was, pissing with rain, soaked with spray from trucks and getting an alloy off thats welded itself to the bolts isnt easy. At one point I pulled the last bolt so hard I actually lifted the car off the jack. It took frigging ages to get off.
Space savers suck
Last year it got an advisory for some slight play in one of the rear drop links but to be honest I havent noticed any difference in the driving over the year so Ive never bothered getting it sorted so we'll see what they say come MOT time.
Whilst driving to BJJ one night I noticed the temperature sky rocket, got off the motorway and into a Shell and pooped the bonnet. Checked the coolant level, zero, checked the radiator and just about burnt my face off as steam went everywhere. I filled it with water and coolant and went to BJJ, I got it home just. As it turned out the radiator was fcuked and had a huge hole in it, Im still not sure how, probably from a huge pot hole Id driven into or a massive stone destroying it, long story short, it needed a new one. As it turned out theres a radiator place in Glasgow so I got a brand new one relatively cheap and got it sent to my local garage who fitted it, I think it came to about £300 odd all in.
Driving
As a drivers car its boring as hell compared to the Puma, the lift off oversteer that eventually led me to park the Puma in a wall is non existent here. It just understeers, everywhere, even though it has a boat anchor of an engine out front, admittedly its on cheapo shit tyres but even in the dry its never inspired confidence when pressing on. Its got about 140bhp but its pretty heavy and doesnt have a huge amount of torque so its not exactly nippy, but above 40 its not actually too bad and Im sure if you really booted it on the motorway the speedo might say 140.
The ride is actually rather pleasant, its not a wallowy boat but compared to my mums cooper s its like a roller and rather comfy to cruise about in. On the motorway its great, the seats are brilliant and look rather smart and buckety too so its nice and comfy for cruising up to Orkney, I ran my Grandad up to Aberdeen the other week and he managed to fall asleep for most of the trip so it must be pretty comfy as he always moans about going too fast etc etc. The 16'' wheels with big fat tyres will help there too.
It's also randomly got 3 dials above the stereo, one shows the current battery voltage, useless, the torque youre using, useless and the MPG youre getting, useless and just makes you feel bad as you put your foot down and it drops to single figures.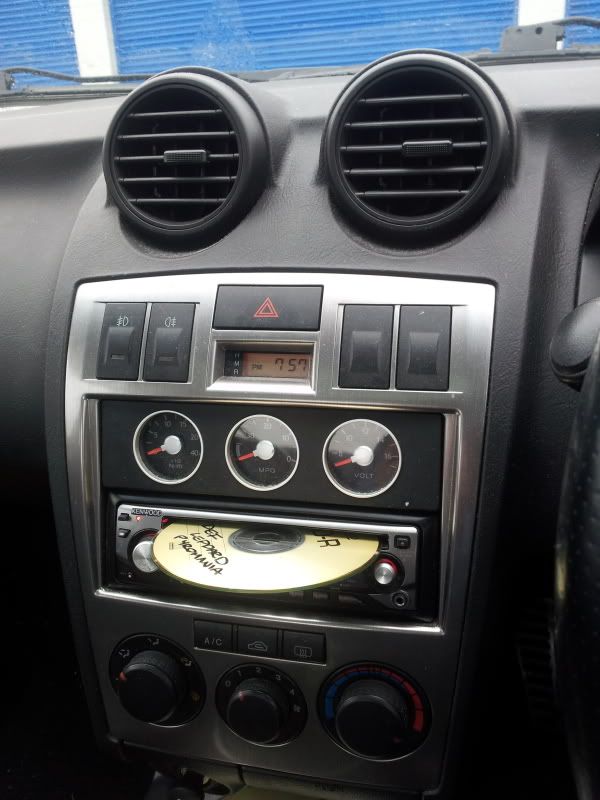 Waiting for the Ferry at the top of Scotland in Scrabster
Kit
Cruise control! I'd never had it before and its great, works easily and its great for cruising down to England, just set it to 75mph and forget about it and then not worry about the hundreds of cameras on the M74 instead of getting a sore foot like I used to in the puma. Its got an electric sunroof too which is brilliant, I think Id really miss it in any future car. The air con is a bit shit, I think it just needs re-gassed but living in Scotland I only need it about twice a year anyway so Im not too fussed. The stereo is some aftermarket kenwood thing which has stupid fiddly buttons but has a aux port which is good for tunes and the speakers are surprisingly good, 2 in the back 2 in the front and 2 tweeters on the A pillars. One thing I do really like, is the bonnet having gas struts, no pissing about looking for a manky rod to hold it up which is great as the bonnet is huge and weighs a ton.
The interior has full leather which is quite nice and aside from the drivers bolster looking a bit worn out its in pretty good nick, its not the softest leather Ive ever sat in but compared to the shite they put in a Peugeot thats all cracked after a few years this stuff its really good. It is black though so its a bit dark in side as everything blooming black. Folk love the passenger side cup holder too as it a pop out thing thats quite funky. Its also got map lights for both sides too which is pretty handy. Theres 2 seats in the back and its a bit of a squeeze for anyone over 5'6''
The boot is pretty huge too, especially with the rear seats folded, Ive fittd various Ikea things in there over the years and fitted 3 of us plus kit into the car for trips up to Rockness and various trips up north to camp and hill walk.
Summation
So there you have it, a few foibles but nothing unexpected for a car that was 7 years old when I got it, not the most interesting drive but a decent and reliable car thats done everything asked of it. Being the 2.0SE and not the V6 it has horrid 16 inch wheels so once its paid off I might treat it to some 17's from the V6. Id assumed that once it was paid off Id get something more fun, I always fancied an S2000, but to be honest I kinda like it and I think I'll run it till it falls apart or I stick it in a wall like last time (hopefully not!). Road tax is a piss take at £245 for the performance though. Plus if it keeps going for minimal cost it frees up some money to start thinking about motorbikes...
For now it'll have to make do with carrying my mountain bike around, which it can do in spite of the spoiler.